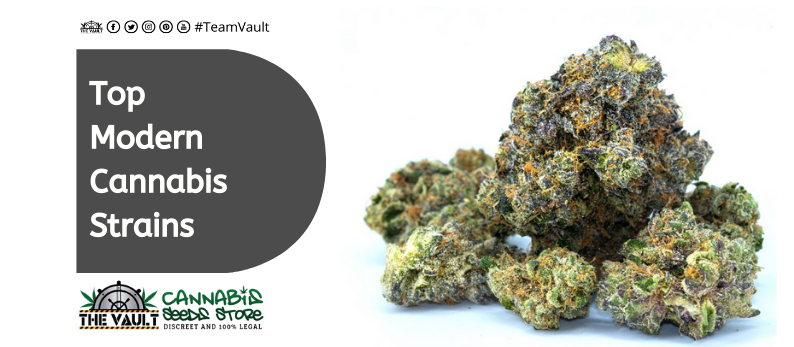 As a culture cannabis smokers and growers can get a little wrapped up in the classics. Of course, these strains absolutely deserve all the clout that they get. However, it doesn't hurt to have a look at the more recent cannabis strains available, especially as many of them use classic genetics. Over the last few decades, cannabis growing and breeding has only improved. Strains are now bred to be easier to grow, higher-yielding, more potent and more resistant to issues such as pest and mould. This means that for new growers newer strains are probably a better idea than some of the classics available. Let's have a look at just a few of the finest modern cannabis strains on the market.
Why not start with the most obvious strain for a list of modern seeds. This fancy lady is a combination of Girl Scout Cookies and Larry OG. She produces amazing yields of intensely potent buds completely covered in resin. She is Indica dominant and has a powerfully relaxing effect. She is absolutely perfect for evening use, especially by those who struggle to get to sleep. Her THC content is a whopping 28%, so she is not a strain to play around with. The buds take on the sweetness of the GSC parent making the overall smoke extremely enjoyable. She takes just 65 – 70 days to flower and can be grown indoors, outdoors or in a greenhouse.
Strawberry Cane is another superpowered new strain that was created to provide large yields of resinous buds. In fact, the resin coating on her buds is so dense that she is thought to be the best strain for extractions in 2020. She is another Indica dominant hybrid, but she is a little more creative. Her high is still soothing and relaxing but allows the mind to wonder. This makes her great for chill crafts or working on a project that's been put off due to being overworked and overstressed. She is also recommended to those who suffer from chronic pain or a lack of appetite. Her THC level is 20% or higher, and she will flower in around 63 days.
This delicious sounding strain is a combination of Cookie Monster and Pineapple Trainwreck. Like most modern strains she is a hybrid, but she is definitely Sativa dominant. The effect is very creative and uplifting with a hint of chill that is almost meditative. This is the perfect strain for anyone who just needs a moment to sit back and feel genuinely amazing. She also has a fascinating flavour profile, a mixture of sweet pineapple with a slightly savoury pastry hint. It is definitely one of the tastiest strains out there, and combined with its feel-good vibes there is no wonder it is recommended heavily for 2020. She also has a short flowering time of 45 days, despite this version being regular. She will also grow well indoors or outdoors, so she's great for any and all growers.
This brand new strain is Indica dominant and has the most amazing colouration towards the end of flowering. The whole plant is bright purple and stands out amongst all other plants. This version is autoflowering and feminised, it is a combination of Purple, Citrus and a Ruderalis strain. Purple Lemonade has a powerful scent of citrus which goes beautifully with the fresh, light colouration. This strain is Indica heavy with an uplifting but soothing strain with a lovely full body feel. This makes it perfect for evening or daytime use with its impressive THC level of 22%. The yields are fantastic and the flowering time is only 56 – 63 days. Purple Lemonade can also be grown indoors or outdoors, so she's perfect for everyone.
This strain is a combination between Hindu Kush and Rare Dankness OG. This strain is ultra-relaxing with its sandalwood scent and powerfully chill effect. This strain is Indica dominant and is perfect for everyone who has found themselves stuck in high strung mode. That is probably almost all of us this year. For just sitting down, watching a favourite film and letting the brain rest. The calming nature of the strain also makes it a perfect nighttime strain for anyone who can't keep their brain quiet at bedtime. Rare Hindu has a flowering time of 60 – 75 days and can be grown indoors or outdoors.
This awesome autoflowering strain is a combination of LSD and Auto Bomb. This strain is a vigorous grower that produces impressive yields of amazing buds. It is a well balanced Indica Sativa hybrid that has an extremely energetic and uplifting effect. There is a hint of psychedelic to this strain that makes the effect perfect for a summers day or going for a nice walk. The THC level is a moderate 16 – 20% which means it's perfect for intermediate smokers. This strain will grow well indoors, outdoors or in a greenhouse with a flowering time of 65 days.
This final strain is a super high THC fruity fun hybrid of Blackberry Kush and Cherry Pie. The THC level usually sits at around 25% and the strain is Indica dominant. The effect is a delightful combination of soothing, comfortable, relaxing, physical and cerebral. This makes it amazing for the evening, especially for those who have trouble getting to sleep at night. This is another modern strain that is ideal for those suffering from stress, anxiety, depression and any other issues that would benefit from a good relaxation session. Visually this is a gorgeous straing that produces a purple and green plant covered in a thick layer of resin. Black Cherry Punch has a flowering time of just 60 days and can be grown well indoors or outdoors.
These are just a few of the amazing recent strains that were created specifically to give growers everything they could want in their smoking experience.
Remember: It is illegal to germinate cannabis seeds in many countries including the UK. It is our duty to inform you of this fact and to urge you to obey all of your local laws to the letter. The Vault only ever sells or sends out seeds for souvenir, collection or novelty purposes.
Make sure you never miss another Vault promo and sign up for our newsletter at http://goo.gl/Bt2Ba2