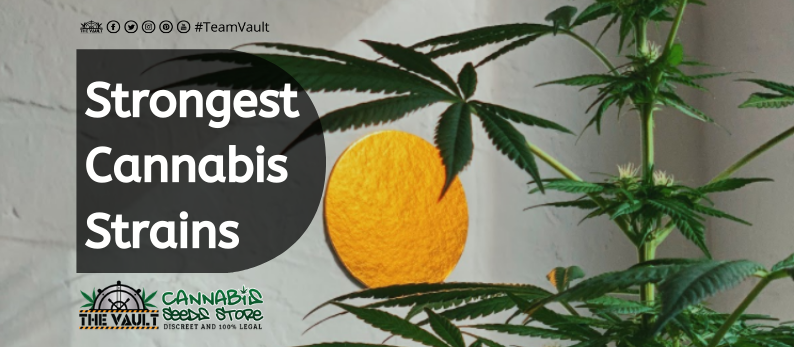 There are a number of different reasons for growers to choose their perfect strain. For some it's growing speed, for others it's yield, and for some, it's the potency of the strain itself. There are so many thousands of strains, all at various levels of strength, effect and potency. Selecting a strain for its strength also depends on a few different aspects. Is the grower looking for a Sativa or an Indica for example? Do they want indoors or outdoors? Feminised, regular or autoflowering? In this article, I'm going to focus on the strength of a few different styles of strain to give growers a little selection to start from.
Chemdawg
This strain was once a record holder for the highest THC content. It is capable of reaching 32.13% THC which at the time was completely unheard of. This strain is a cross between a Thai and a Nepalese Sativa, or so it is thought no one is quite sure. Despite the Sativa lineage, this strain is definitely Indica dominant. The effect is extremely powerful and relaxing with a delightfully calming hit for the body and mind. This version of the strain is feminised but can likely be found in autoflowering and regular forms. This strain can grow both indoors and outdoors, though she requires minimum humidity. These seeds are absolutely perfect for first-time growers, especially due to them being feminised.
Bubba Kush
Bubba Kush is a classic strain, primarily for its extremely powerful Indica effect. This strain is regular which makes it ideal for old school growers, but it is also available in feminised. The effect is extremely soporific and relaxing, perfect for use by those who struggle with sleep issues, pain, or just plain wants to be knocked out. Despite how intense the relaxation is many smokers have reported still being very focused while high. The strength of this strain can get right up to 27 – 28% if it's grown properly.
Trainwreck
This wonderful Sativa dominant strain is well known for its powerful effect, hence the name. This strain is uplifting, energetic and intense in mind and body. The THC level is usually around 25%. Due to its excellent effect, it is often used by those who struggle with PTSD, muscle spasms, depression, and anxiety. The power of this strain does hit like a train, immediately kicking in after smoking. This strain first began life in the 1970s and since then has often been praised for its power. This particular version is feminised which makes it ideal for new growers.
White Widow
This is a classic and I would be remiss if I didn't add it to the list. White Widow is the driving genetic force behind a large number of the best strains. This strain is a delightful balance, 60% Indica and 40% Sativa. This gives it an incredible effect that is all at once happy, uplifting, relaxing and creative. She is also known for her fantastic medicinal properties. This strain is great for the mental and the physical, from depression and stress to pain and muscle spasms. This version is autoflowering and feminised, great for new growers, but can be purchased in pretty much any form since she's such a classic.
Tutankhamon
This strain came from the famous AK-47 strain, and inherited a significant amount of its power. This strain is also Blueberry based and took all of that delicious scent and flavour. The THC level on this one is 27 – 30% which is pretty damned impressive. She is a Sativa with extremely high potency levels and an uplifting, euphoric effect. It creates thick, resin coated buds and is definitely recommended for medicinal use. Tutankhamon also has a lovely blue colour to it which is made much stronger by reducing the heat during flowering.
Girl Scout Cookies
This is another lovely classic well known for it's impressive potency. This strain gets up to 28% THC levels. GSC is a cross between Durban Poison and the infamous OG Kush. This strain is also Sativa dominant and this version is also feminised. The yields are huge, covered in resin, and grow into lovely purple and green colours with tiny bright orange hairs. GSC has a powerful body high with a relaxing cerebral edge. This makes it ideal for anyone suffering from pain, anxiety or depression.
Blue Dream
Blue Dream is a classic beauty with a balance between Sativa and Indica. She is well known for not having that high a THC level but a powerful physical effect. The cerebral effect is a little more soft and relaxing with a touch of a creative buzz. Even then the THC levels can be anything between 13 – 17%, it totally depends on how it is grown. The buds are large and completely covered in resin, making it ideal for extraction methods. This version is autoflowering and feminised making it perfect for new growers.
Super Silver Haze
This final strain comes in the form of regular seeds and is another absolute classic. Super Silver Haze usually has a THC level of 20% and up. It is best known for its silvery appearance, which is how it got its name. The effect is powerful and cerebral with a nice relaxing bodily stone. It is quite sedate but soft mentally which makes it perfect for night time usage. However, with the right mood behind it, this strain can be extremely creative. These seeds are regular which is ideal for old school growers. This strain grows well indoors and outdoors as well as in a greenhouse and is great for new growers.
These are just a few of the many fantastic extra strong strains that are ready to knock some blocks off. There are loads of other great strains available and as always it's great to do research and find the perfect strain. When it comes to potency there is so much variety in effect and type of high that its best to have a little try of anything.
Remember: It is illegal to germinate cannabis seeds in many countries including the UK. It is our duty to inform you of this fact and to urge you to obey all of your local laws to the letter. The Vault only ever sells or sends out seeds for souvenir, collection or novelty purposes.
Make sure you never miss another Vault promo and sign up for our newsletter at http://goo.gl/Bt2Ba2